Discover more from Where on Planet Earth
travel stories and recommendations from a life on the road
The Benefits of Traveling with Friends (and how to do it right)
Journal Post #16: March 27th 2023, Park City Utah
Hola and welcome to Where on Planet Earth! In case you got here by accident and are not yet a subscriber, sign up below! For more visuals on our travels follow us on IG @whereonplanetearth
During the past nine months of full time travel we have traveled with friends in eight out the twelve countries we visited! If we only count countries in which we spent 2 weeks or more then it's seven out of nine. That is almost 80% of the countries we visited!
This didn't happen by random or happenstance, we were actually very intentional about it.
And, we are so glad we did!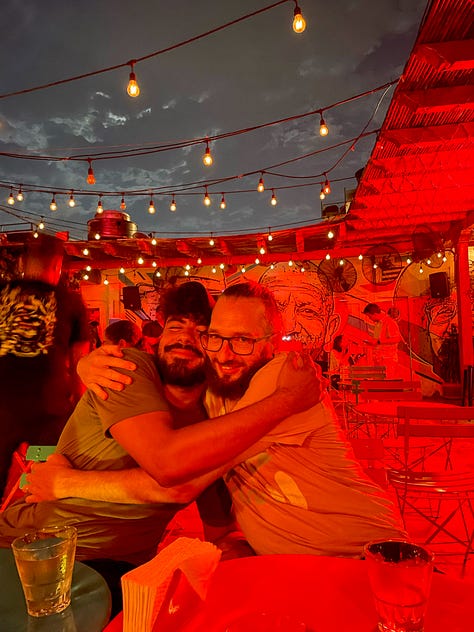 Traveling with friends can be incredibly fulfilling in many ways, BUT it can also be exhausting and frustrating. You might have very different travel styles, or have specific expectations from the trip that are not shared, or different ideas on how to spend money, or you might simply get annoyed of each other!
Ultimately, I am all about traveling with friends, but I also strongly believe in being intentional about it and not just jumping into it assuming everything will work out. The key: communicate communicate communicate!
We have learned a lot from the past nine months of traveling with friends, so I thought writing out some of what we like about it and how to do it right might be useful for some!
So, what are the benefits of traveling with friends? We think many:
It can strengthen and deepen your friendships
Personally, I see this as the biggest reason to travel with friends. Spending days or weeks together can be so much more meaningful to a friendship that having dinner once a month. The downtime between planned activities - that time to just exist in the company of each other - is so beneficial to a relationship. Creating new memories together is also such a powerful connector!
It gives you a different perspective on a place
Traveling with others can widen your view of a place and make the experience even more unique and memorable. By design, when traveling with other people you end up seeing a place through their eyes as well. Your experience is shaped by everyone that is around you and this can help you process the trip - both the good and the bad - more holistically.
It can save you money
Yup, traveling with friends can save you money! You can split the cost of accommodation, rental car, and even group activities, which can lower your costs overall. We always end up staying in nicer places when we are with friends!
It can make you understand a place deeper
This is specially the case if you travel to places with local friends. How cool is it to be shown around a country by someone who speaks the language, knows the best spots, and can give you insights into the history and culture? VERY COOL! and so freaking special and memorable.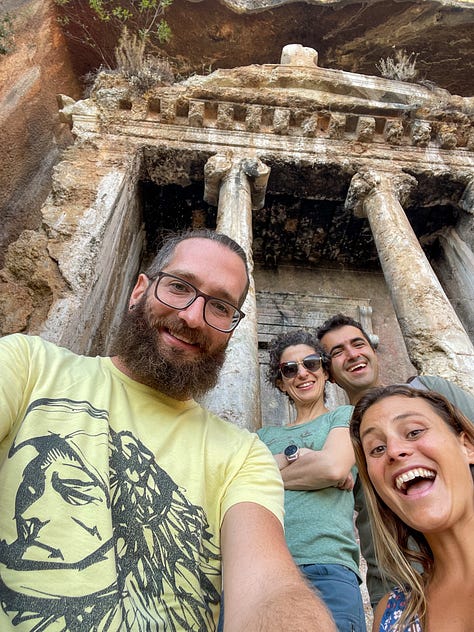 But, with all its potential benefits, traveling with friends can also be a joyless ride. Everything above can turn negative in a split second. It all depends on how you go about it! So, here are some of our tips and opinions on how to make the most of traveling with friends:
Be assertive and communicative (and set boundaries)
Communication communication communication! The most important tip of all. You have to be assertive and communicate what is important to you.
If you have specific activities in mind, share them. "I really want to go to the local farmers market on Sunday, do you all want to come?"
If there is something you don't want to do, be clear about that and set boundaries. "I am not really into clubbing, but would love to go for dinner beforehand!"
If you are uncomfortable, speak up! "I don't feel safe in this neighborhood, can we please grab an Uber to the hotel?"
Make plans together (and don't overbook)
Don't let others plan the entire trip for you! Get involved. Chat with your friends prior to the trip and discuss your options - where should you go, what should you do, where should you stay, etc. Decide together! (even if one person is usually the planner - aka me in many cases 🙃). There are many tools that can help you with this! When we plan more involved trips we usually get a shared Google Sheets going, Airbnb has a feature to create and share lists of properties with others, etc.
Also, don't overbook your trip! Don't fill up every available hour with planned stuff to do. Leave space to improvise and relax - this will make your trip more enjoyable! (and if needed, will allow you to give yourself some personal space - more in this below).
Be an independent traveler even when you are with others
Don't go travel and expect others to make all decisions for you! If you leave that responsibility to a single person it can be exhausting and frustrating, and honestly it can make future travel less likely to happen. While on the trip, be part of the decision making, do research, and be an active participant in the day to day planning and execution. Don't just ride along. Do this *even* when you are traveling with local friends, of course they will know more about the area and will likely be the ones directing but still, don't expect everything to be decided for you.
Be flexible and willing to compromise
You are traveling with people who might very well have different opinions and desires than you. You have to be flexible and willing to compromise to make it enjoyable for everyone. Maybe one day you do something you wouldn't have chosen to do if you were traveling by yourself (but who knows, it might surprise you!), or you compromise on going out to dinner at a place you are not super excited about. Some other days your companions might do the same. The point is: don't be set in your ways for every little detail, and just be willing to go with the flow sometimes! (this is tough for me 🙈)
Give yourself and others personal space
I think this is probably the most important advice of all (after communicate communicate communicate 😉). Get rid of the idea that you have to do everything together just because you are traveling together! It's ok to do things on your own and to give yourself and others personal space. Go for a run, visit a museum, chill at the Airbnb, whatever works! This goes back to the point of being an independent traveler. It's absolutely normal to need personal space and time alone, specially if you are traveling for a while together. It's not a big deal!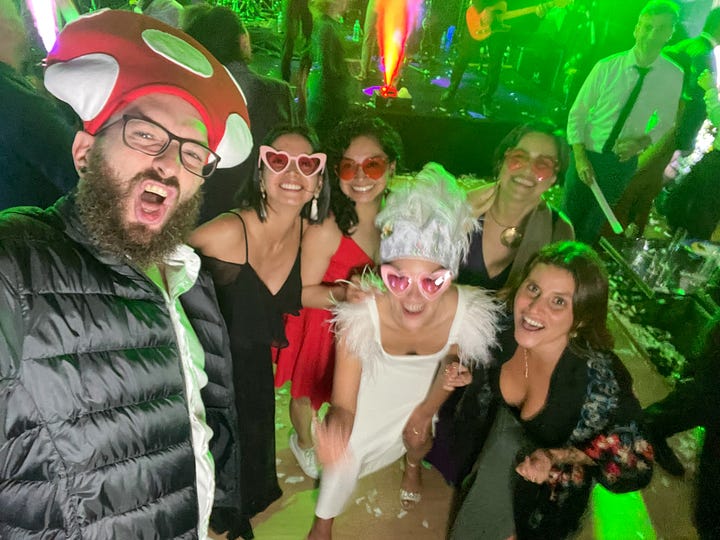 Overall, we think traveling with friends is a super enriching experience and we highly recommend it! I know it's much easier to not do it, but the effort and intentionality of making it happen is worth it.
THANK YOU to all our incredible friends who cross oceans to explore with us, show us your beautiful hometowns, visit us in ours, and make our lives so much more richer! We are so very grateful for you and wish for a lifetime of traveling together <3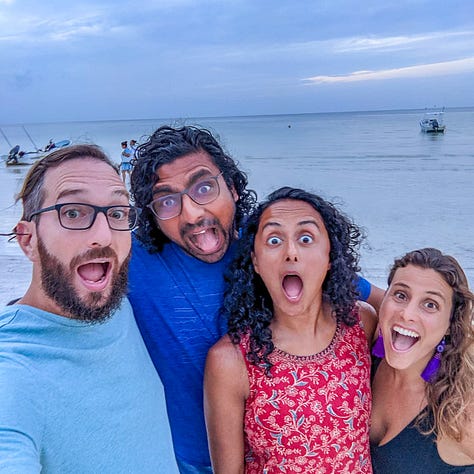 Last post coming out of Park City! We leave home on Friday 😬