Discover more from Where on Planet Earth
travel stories and recommendations from a life on the road
How a Nation within a Nation came to be
Journal Post #19: April 17th 2023, Springdale Utah
Hola and welcome to Where on Planet Earth! In case you got here by accident and are not yet a subscriber, sign up below! For more visuals on our travels follow us on IG @whereonplanetearth
The Navajo Nation is the largest land area held by a Native American tribe in the United States. It's located between northeastern Arizona, southeastern Utah, and northwestern New Mexico and encompasses over 27,000 square miles (70,000 square km). Navajoland, as it's also called, is larger than ten US states, as well as Taiwan, Belgium, Switzerland, Netherlands, Albania, Denmark, Croatia, Sri Lanka, and Georgia, just to name a few countries.
Basically, Navajo Nation is a large piece of land!
It's one of only a few indigenous nations whose reservation lands overlap its traditional homelands. This is where Navajo ancestors actually lived before the Europeans came and almost erased them.
According to the U.S. Department of the Interior, a Native American reservation is defined as "an area of land reserved for a tribe or tribes under treaty or other agreement with the United States, executive order, or federal statute or administrative action as permanent tribal homelands, and where the federal government holds title to the land in trust on behalf of the tribe."
In theory, a reservation is land in which native tribes can live in, govern themselves, and retain some of their cultural and social traditions.
But, as you can probably imagine, these reservations weren't created out of the goodness of European Americans. Bloody conflicts over land and natural resources such as gold were common from the early days of European colonization.
In 1830 an act called - and I wish I was making this up - The Indian Removal Act was put in place, and the "Five Civilized Tribes" - also wish I was making up that term - the Choctaw, Chickasaw, Cherokee, Creek, and Seminole, were removed from their lands and forced to migrate, literally march, to other areas of the country. This march became known as the Trail of Tears due to the thousands who died from diseases, starvation, and heat exposure.
There was resistance, of course, known as the Indian Wars, but Native Americans were defeated by the US Army and forced to relocate. Reservations became an official thing in 1851 as a way of keeping Native Americans off of lands that white Americans wished to settle.
Conflict didn't stop there. Colonizers kept pushing westwards and into tribal lands, taking everything in their path. They saw the traditions of Native Americans as barbaric, and wanted them to assimilate into US society. So, in 1887 the US Congress passed the Dawes Act which ended the reservation system and portioned tribal land into individual allotments. They allowed only those who accepted the individual plots to become US citizens. The land that was left was then sold to white settlers, once again taking millions of acres of tribal land from Native Americans. Shockingly, it wasn't until 1924 that all Native Americans became US citizens, the only people truly from here were the last to gain citizenship.
Ultimately, more than 1.5 Billion acres was taken from Native Americans between 1776 and 1887 (for more of a deep dive on this check out this great interactive map )
Much later, in 1934, the Indian New Deal was put in place which reversed some of the earlier privatization of land and encouraged tribal sovereignty. A couple million acres were returned and the government started investing in infrastructure, health care, and education in the reservations.
Today, there are 574 federally recognized Native American tribes and 326 reservations, occupying 2.3% of the total area of the United States. These Native American nations are semi-sovereign, meaning they can pass laws and are self-governed. Tribal governments determine their own structures and enforce their own laws through police departments and tribal courts. These laws can be different than the laws around the tribal land, which is why reservations are the only US locations with casinos. The tribal governments are also responsible for education, health care, natural resource management, and basic infrastructure, although the federal government is obligated by law to provide certain services as well.
However, reservations are also heavily regulated by the federal government, and some call this "tribal autonomy" little more than a legal concept without much meaning. In particular, nearly all tribal land (50 million acres) is managed by the federal government. This prevents individual ownership of land and imposes bureaucratic processes on any development which creates a barrier to economic growth. There is virtually no reason for developers to invest in the reservations, which leads to subpar living conditions.
This is made worse by outdated federal policies, like the Dawes Act mentioned above, which by law fractions interest in land equally among heirs at death and this basically renders that "ownership" in the land useless since consent from a majority of owners is required to do anything with it. The more time it goes by, the more owners that land has, and it becomes less and less valuable. Basically, if everyone owns the land, no one does.
"Home ownership, natural resource development, and entrepreneurship on Native American lands are substantially hindered by government oversight." - FEE Stories
The truth is that reservations have significant gaps in services and opportunities. The poverty levels in reservations are much higher than in the rest of the country and Native Americans have the highest poverty rate among all minority groups.
There are ~5million American Indians and Alaska Natives in the United States, representing ~2% of the population, but the majority now live outside of reservations.
The Navajo Nation, where we just spent some time in, is home to only around 170,000 people even though it's bigger than Taiwan, which has a population of more than 20 million people. The land is high, dry, and rugged, and it also has some of the most striking natural features I have ever seen.
Many drive through Navajoland without even noticing. I wouldn't blame them; there is no physical border, no passport check, no actual requirements. The only signs that might alert you that you are in fact in a different place is your radio suddenly going from country songs to a newscaster speaking in a language you have never heard before (Navajo), your phone going crazy with the time (Navajoland observes daylight savings time, which Arizona does not), or the flashing sign of a Casino. But it's a different place no doubt.
We have been to Navajo Nation twice in the past couple years, and it's easy to see why this land is sacred to Navajo people. We have marveled at its tall mountains, walked its red dirt, got deep in its swirling slot canyons; always in disbelieve that we were still on earth. But, Navajo people and Native Americans in general deserve more than just their land back, much much more. We are grateful to be able to visit this sacred land, and we honor living in what we know used to be sacred tribal land too, of the Timpanogos.
If you don't know which native land you are on, make sure you do.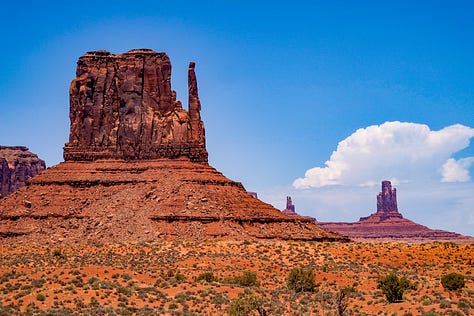 See you next week, when we will be in Europe!