Discover more from Where on Planet Earth
travel stories and recommendations from a life on the road
Highlights and Lowlights After Nine Months of Full Time Travel
Journal Post #14: March 13th 2023, Park City Utah
Hola and welcome to Where on Planet Earth! In case you got here by accident and are not yet a subscriber, sign up below! For more visuals on our travels follow us on IG @whereonplanetearth
As we close on nine months of full time travel and prepare for the next six months of it, I thought it would make sense to share our high (and low) lights from the trip so far!
A few notes as a baseline:
I started full time traveling a month before Alan and went to visit my parents who live in Thailand. We traveled together to Malaysia and Singapore, but since Alan and I didn't do this together I am not including these countries in our ratings below.

We did a few short trips at the beginning of the trip focused on visiting friends and getting some specific things done (attended a writing workshop and got a tattoo, for instance). We went to Spain, Sweden, Germany, and France, but I am also not including these in the ratings because they were very short and targeted visits.

Traveling has always been a priority to us so we have visited 47 countries together. But, we are only focusing on the ones we have been in the past nine months while we were full time traveling. Someday I will write about all the others :)
So, what countries are we rating?
Greece, Turkey, Georgia, Armenia, Ecuador, Peru, Brazil, and Colombia!
And without further ado, here are our ratings organized in five different categories: Food, Nature, Cost, Other, and Overall.
FOOD
Best Food:
Greece
BY FAR the best food we had in the entire nine months of travel. Honestly, food in Greece blew our minds. We spent two months in the country, visited 11 islands and also Athens and other parts of the mainland, and we ate well throughout. Fresh and flavorful food, so many veggies and feta and olives and wine and seafood. They know how to bake, how to grill, and how to drink. In many islands - particularly in Crete - they would bring you dessert *and* the local liquor Raki after every meal, for free! Their cuisine is diverse, unique, and just so damn good.
Most Vegetarian Friendly:
Greece
So many fresh veggies! And I am not only talking about salads. Unbeatable for vegetarians.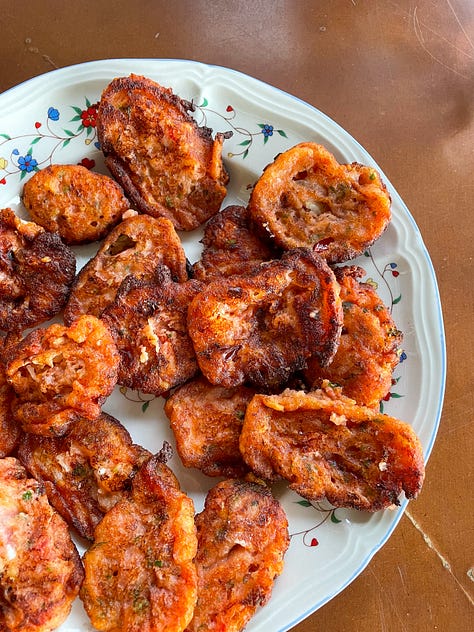 Less Vegetarian Friendly:
Turkey
Phew, I couldn't wait to eat a mountain of veggies as soon as we left Turkey. I am not a heavy-meat eater, never have been, so the intense meat-focus was a bit too much for me. This was particularly the case in South Eastern Turkey. BUT, one thing is undeniable: it's *good* meat. Just be careful in South East Turkey if you have gout, like Alan does…
Best Baked Goods:
Turkey
Turkey is truly a master baker. By far the best bread and baked sweets we ate in the entire trip were in Turkey. They make bread in all its permutations and it's always soft and toasty and perfect, filled and topped and everything in between. In Southeast Turkey the baked sweets were mind blowing, from baklava to katmer to kunefe, the list goes on and on.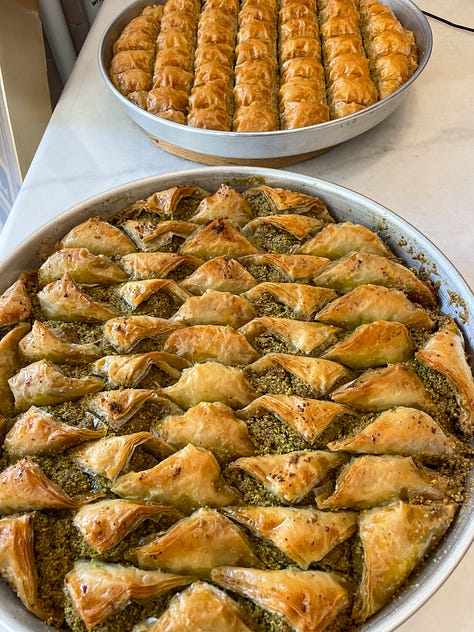 Best Street Food & Cheapest Food:
Turkey
Food was the most affordable in South Eastern Turkey! and the street food everywhere in the country was amazingly flavorful. Colombia also has solid street food, though truthfully nothing in South America is comparable with the food we had in Greece, Turkey, Georgia, and Armenia.
Best Value for Money:
Georgia
Georgia, and in particular Tbilisi, is packed with excellent restaurants that also very affordable. We ate in some of the best restaurants in the city and never paid more than $40 per person (many were far below that).
Most Unique Food:
Georgia
We actually really liked Georgian food. Lots of good cheese, eggs, and bread, but also very unique. We sort of expected the food to be very similar to Russian and Eastern European, but although there are similarities Georgian food is really its own thing. The country was positioned along the Silk Road so was influenced by many cultures throughout time. Georgian cuisine is varied and diverse, with lots of fresh veggies, herbs and species, and nuts (particularly walnuts).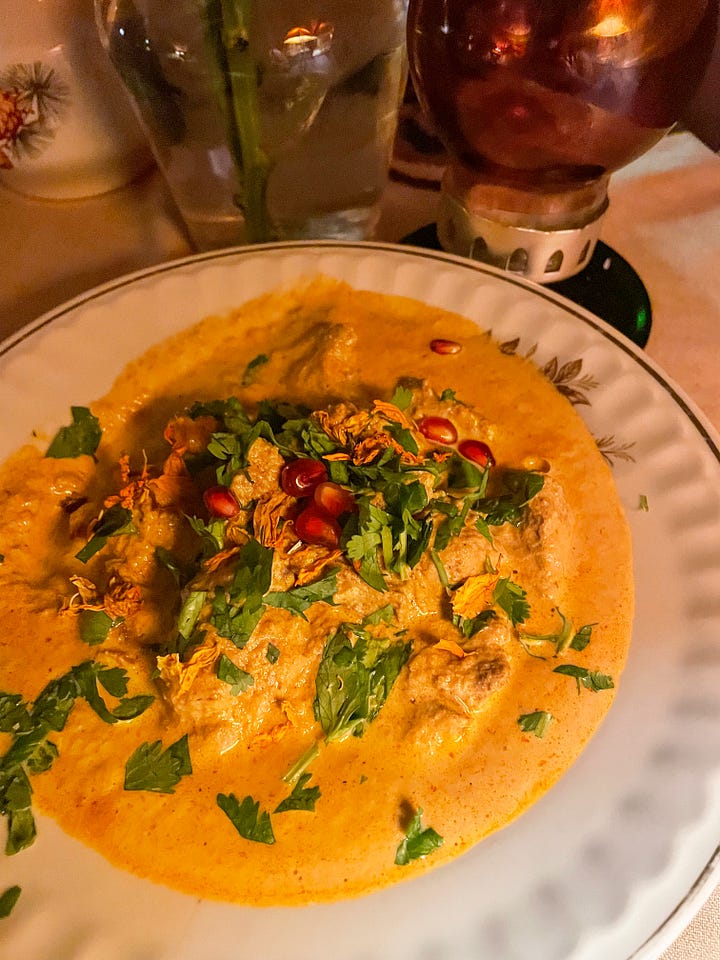 Worst Food:
Ecuador
Sadly, Latin America leaves a lot to be desired in terms of food. Peru and Brazil are by far the best in the South, but still far behind Mexico in the North. Everywhere else we have been in the continent - a large chunk of it - has been quite disappointing in this regard. I am talking about the local food, particularly street food, not whether you can find good international cuisine or fancy restaurants (which you can in most big cities). We didn't eat bad per se, but nothing special, particularly in Ecuador and Colombia.
Best Coffee:
Turkey and
Most Big Cities
We are coffee snobs, so honestly this was a hard question. As a country I think Turkey has the best coffee, but we like espresso-based drinks and we could only find that in the larger/more touristy cities. Most of them had at least one or two places with solid flat-whites, like in Yerevan, Tbilisi, Athens, Sao Paulo, Rio, Medellin, Lima, and Cusco.
Best Local Liquor:
Armenia, Greece, and Peru
Most places will have a local liquor that is cheap and - many times - very good. We loved trying all of them and honestly it was hard to pick our top three, but we settled with Brandy in Armenia, Raki in Greece, and Pisco in Peru.
Best Wine:
Greece
The best part? they drink it like water, and it costs even less. We also LOVED Georgian wine!
---
NATURE
Most Impressive Nature:
Brazil
Vast beaches, lush mountains, untouched Atlantic forest. Everything is big and wild in Brazil. I love how the country makes you feel tiny in comparison to the overpowering nature around you. From exuberant Atlantic islands to giant rocks in the interior of the country, Brazil had the most jaw-dropping nature we saw in our trip. It's also the greenest country we visited, and the one with the most rivers and Cachoeiras! (waterfalls).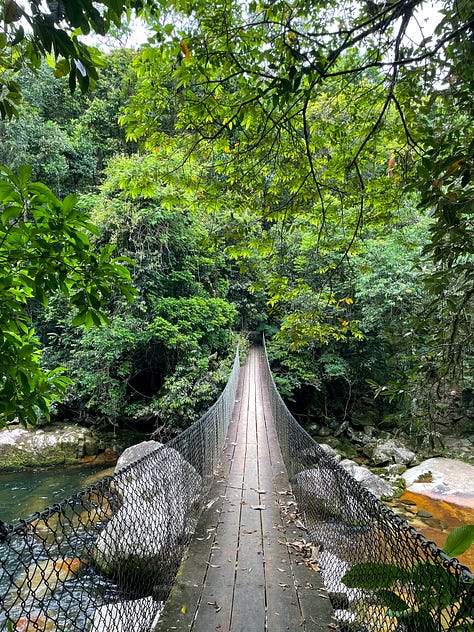 Most Impressive Beaches:
Greece/Turkey and Brazil
We probably spent 90% of our time in Greece and Turkey swimming in the Aegean and Mediterranean oceans. There are countless pretty beaches with clear and aquamarine waters around that area. The beaches in Greece and Turkey are extremely calm, without currents and - mostly - no waves. We liked the Greek Aegean the best. Pretty idyllic. In the summer they are packed with people and have good facilities (showers, restaurants, beach chairs to rent, etc). A big chunk of them are rocky instead of sandy, which I wasn't a huge fan of. But still, gorgeous nonetheless.
Brazil, on the other hand, has the wildest beaches I have ever seen. And I mean wild in all its forms. Wide and long, big rough waves, framed by lush uncontrollable jungle, remote and solitary. And sandy, so so sandy. Many of them are only accesible by hiking or taking a boat to them. We found them extremely unique and were enchanted by them.
Best Multi-Day Hiking:
Georgia
We love hiking! Whenever it's possible, we will be doing it. We did either multi-day hiking or day hikes (or both) in every country we visited. Our favorite multi-day hike was in Georgia. We hiked from Mestia to Ushguli, two small towns in the Caucasus Mountains bordering Russia, and loved how remote the hiking felt there and how unique the landscape was. I mean: medieval towers, tall snowy mountains, loud glaciers, hot tea next to a fire, fall colors painting everything around us, good conversations while eating fresh baked bread. What more can you ask for? It was magical, and I think particularly because we visited in the fall at the end of the busy season.
As far as multi-day hiking goes, the Salkantay Trek in Peru was also very impressive. But, too busy/commercial for our taste.
Best Day Hiking:
Brazil
We did day hikes in every single country we visited, but we specially liked the trails in the Atlantic Forest of Brazil. The corridor between Rio and Sao Paulo is filled with dense and thriving trails, almost all leading to impressive beaches that in most cases we had almost completely to ourselves.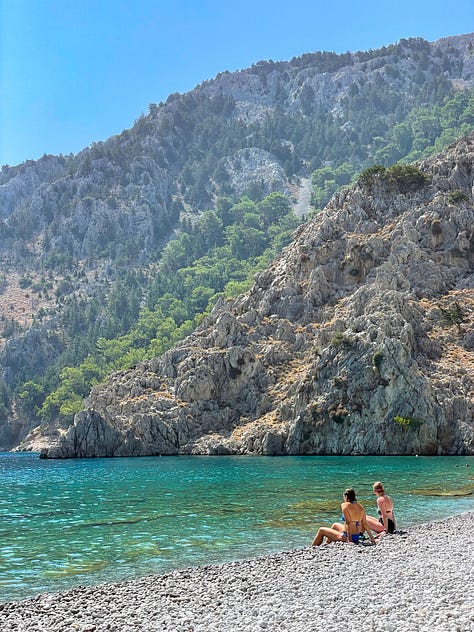 Less Favorite Hiking:
Armenia
Hiking is not a strong suit for Armenia. We spent time in what is considered the "best" hiking area in the country (Dilijan National Park) and truthfully it was somewhat disappointing. It has nothing on Georgia, which is next door. Go to Armenia for its history, monasteries, and the capital Yerevan!
Best Views: EVERYWHERE!
We saw impressive views in all countries we visited. Honestly, it's impossible to choose on this one.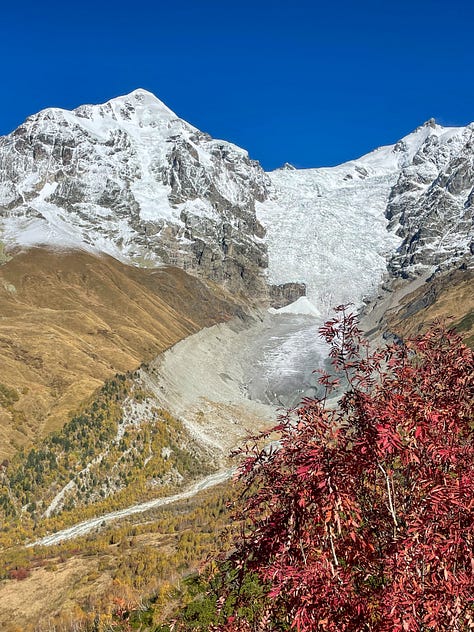 ---
COST
Most Expensive Country:
Ecuador
Yup, Ecuador was the most expensive country we visited on our trip. The country is dollarized, so it doesn't have its own currency; which makes it very expensive. From food to hotels, it's not an affordable place to visit.
Most Affordable Country:
Turkey, Georgia, and Armenia
The Caucasus region and South Eastern Turkey were very affordable! Beautiful, relatively unknown, and affordable. What are you waiting for?
---
OTHER
Most Unexpected:
Armenia
I had zero expectations on Armenia, which I think is what made discovering its history, culture, and food such a delight. We didn't spent a ton of time in the country, but I specially liked the capital Yerevan. It kind of reminded us of Mexico City. Wide boulevards, big trees, lively and modern, good coffee and food.
Most Interesting:
Turkey
Turkey is a giant country with a ton to offer. I learned a lot about it and about the world at large by visiting it. There is so much history in every corner of it. South Eastern Turkey was specially interesting and unique, specifically we went to Mardin, Sanliurfa, and Gaziantep, and I recommend all of them. There is so much history in this three cities, impressive old architecture, and unique and yummy food.
Most Diverse:
Peru
Peru was mind blowing, and so diverse in terms of its terrain, altitudes, landscapes, cuisine, cultures, and people. We really loved the country, from its high mountain tops to the cities right next to the sea, from its many indigenous communities to its precious llamas, from its fresh ceviche to its pisco sours.
Most Livable:
Greece and Brazil
If we had to live in any of these countries we would probably pick Greece and Brazil. Specifically, we would live in Naxos Greece and in Rio de Janeiro Brazil. Totally different places but to us both very appealing. Naxos due to its pristine gorgeous beaches, solid food, water-sports friendly, and chill vibe. Rio for its city meets nature magic combo, highly active population, and fun culture.
Most Friendly People: Brazil
Brazilians are just *so nice*. Open, friendly, welcoming, and just plain fun to be around.
Side note: I feel people are friendly everywhere, but in their own way :). What I mean by this is that you could go somewhere - like Greece or Georgia for instance - and if you stay for just a few days you might think people there are rude, too direct, etc. But stay a little longer and you realize their way of being friendly and nice is just different than what we expect in the US or Latin America. Culturally, we are all different so what is expected in relationships and human connections is also different. It's good to always keep this in mind.
Less Favorite:
Ecuador
We have to have a least favorite, and Ecuador takes it. This is not to say there isn't anything worth seeing there, but the truth is that we didn't visit anywhere in Ecuador we thought was mind blowing. Also, the food is pretty mediocre, and food is a big part of why we travel. The Amazon was beautiful, but not as diverse and impressive as the Venezuelan Amazon. And Cotopaxi and Papallacta were both nice, but also nothing out of this world. Note that we didn't get to visit the Galapagos this time around ($$$) which probably would have changed my opinion of the country as a whole. That is for another day!
---
SAFETY
A few people suggested I include safety as one of the categories and I think the question absolutely makes sense, but it's a somewhat more nuanced topic than just calling out the safest and most dangerous country or place. Safety has a lot to do with your personal tolerance in uncomfortable situations, plus your experience will be biased by where you stay and what you do. There are also layers to safety; like are we talking about petty crime or global wars? So, I can tell you about our experience but please take it with a grain of salt.
In terms of feeling personally safe from petty crime, we felt *very* safe in Greece, Georgia, and Armenia. We felt the most unsafe in Ecuador. Truthfully, the only time in our entire 9 months of full time travel I felt scared was when getting to our Airbnb in the center of Quito late at night. In general, my personal comfort in Latin America was lower than anywhere else we went, and I think this has to do both with the fact that we are Latin American, and also that it's in fact more dangerous than Europe and the Caucasus. But, again, I only felt scared in one country and in one particular part of that country.
In terms of the geopolitical situation, it was almost the reverse. Being in the Caucasus seemed way riskier than being anywhere else. We literally spent weeks right on the border with Russia, while that country waged an active war and hundreds of Russians were crossing into Georgia (a very pro-Ukrainian country). Armenia had an active conflict with Azerbaijan when we were there and fighter jets were constantly on the air. The list goes on. But, did we feel unsafe in these countries? Not even a little bit.
We were in Peru and Brazil when events that lead to political instability happened. We were in Peru when the president tried to dissolve congress and was ousted and put in jail, and in Brazil when the far right stormed congress. Both events lead to political unrest but, personally, it didn't affect us at all. We were lucky with timing, in that we either left right on time (before airport closures in Peru, for instance) or that we weren't in the cities where unrest was the most intense.
I can keep going with this because in every place either something happened or was about to happen. That is the world we live in. There is stuff happening everywhere all the time, and the more you travel and spend time in places the more this is obvious. When we were in Greece the president of Turkey threaten to invade some Greek islands. When we were in Colombia a massive country-wide strike was planned but didn't happen. Etc Etc.
In general, my personal opinion is that the world is a much safer place than you think. Unfortunately, many governments around the world - the US being the top dog on this - spend incredible amount of money and effort in scaring the crap of their citizens and discouraging them to travel abroad. This is total bullshit. Do not let anyone scare you into traveling, regardless of whether you are traveling alone or not.
I wasn't alone the past 9 months, but I have traveled alone to many many countries and the above still stand true. Whether alone or not just don't be a sitting duck, always pay attention to your surroundings, and get the fuck out of a situation that doesn't feel safe. But, don't stop going anywhere because you will be alone. In terms of the countries we visited, the places where we felt the safest as a couple are the places I would also feel the safest alone: Georgia, Armenia, and Greece. That said, out of everywhere we went there isn't any place I wouldn't visit alone, although as a solo women traveler I'd think twice about going to South Eastern Turkey if I didn't know Turkish, not because I think something bad would happen but because it would be difficult to travel through the region with the combo of not knowing the language and being a woman.
---
OVERALL RATINGS
Overall, here is how we would rate the countries we visited in the last 9 months.
For reference, here is how long we stayed in each country and where we went:
Have you been to these countries? Do you agree / disagree with our ratings? What category should we add?